By Lynn Tall, Rug Advocate®
Moth Season Is Here! Should I Be Worried?
These tiny, beige pests are most active during Spring and Autumn. You might notice them flying around outside, or you may spot one or two in your home on or near a wool, hair, or silk textile. They lay their eggs in the fibers of sweaters, blankets, and rugs so that when the eggs hatch, the larvae don't have to go anywhere to find food. They gnaw at the fibers to get to the proteins found at the core. Moth larvae can cause a lot of damage in a relatively short amount of time, so it is important to remove the eggs before they have a chance to hatch.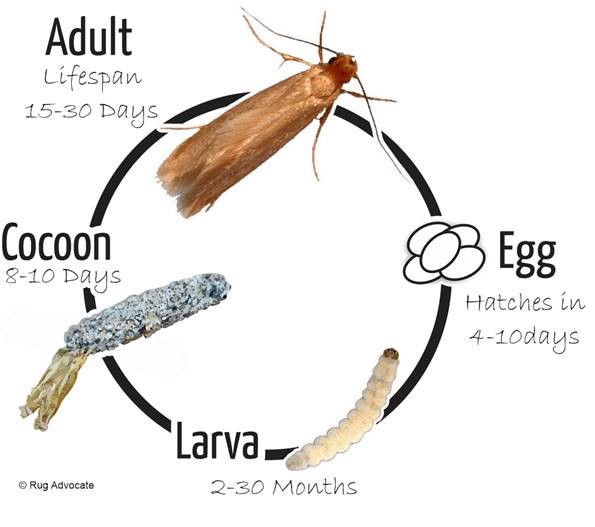 Not-So-Fun-Fact:
Moth eggs can lay dormant for up to two and a half years!
Not-So-Fun-Fact: Moth eggs can lay dormant for up to two and a half years!
It's not easy to remove wool moths on your own once you discover an infestation. Vacuuming alone will not remove them. Your textiles really do need to be removed from the home, professionally cleaned, and then treated with special repellants. This isn't your grandmother's DDT – the chemistry nowadays is much smarter and safer, and needs to be reapplied after each cleaning, or after a length of time has passed.
Don't try to handle bulky moth infested textiles on your own. You may spread moth casings and eggs to other areas of your home in the process. If you suspect an infestation – large or small – please call us! Southern Idaho Rug Washers will do the following:
• Inspection for moth activity
• Contained removal of infected textiles from your home
• Safe removal of casings, cocoons, larvae, and eggs from the textiles
• Post-cleaning treatment to help repel moth activity for several years
• Recommendations for any necessary textile repairs
• Involvement of a pest control company
Should you decide to store your textiles for a long time – several months or even years – have them professionally cleaned first, and then treated with a moth repellant. Wrap them in Ty-Vec, a breathable, hard to puncture wrapping material. Wrap the entire bundle, including the ends, and seal all the seams with packing tape. Store them in a clean, dry, cool place – away from exterior walls, and up off of the floor. 
Southern Idado Rug Washers
628 Blue Lake Boulevard North
Twin Falls, Idaho 83301
(208) 595-1882
Copyright ® 2023
All rights reserved.