Rug Repair at Southern Idaho Rug Washing
One of the joys of being in the rug care business is that we get to restore beautiful hand-crafted rugs to their previous glory every day.
It often happens that by the time a rug comes in to our studio for cleaning, it's in dire need of attention. Sometimes that includes structural damage that needs repair.
Here at Southern Idaho Rug Washing, we see it all – most commonly, rugs used as dog chew toys or scratching pads for cats, worn areas that become holes, water damaged rotted areas, worn side cords where doors swing across the yarns, and hungry vacuum cleaners eating up the fringes.
When the cleaning and repairs are completed, we love seeing the happy surprise on our customer's faces! We hear how they now see colors they didn't even know were there, or that the rug was almost sent to the trash because of the existing damage.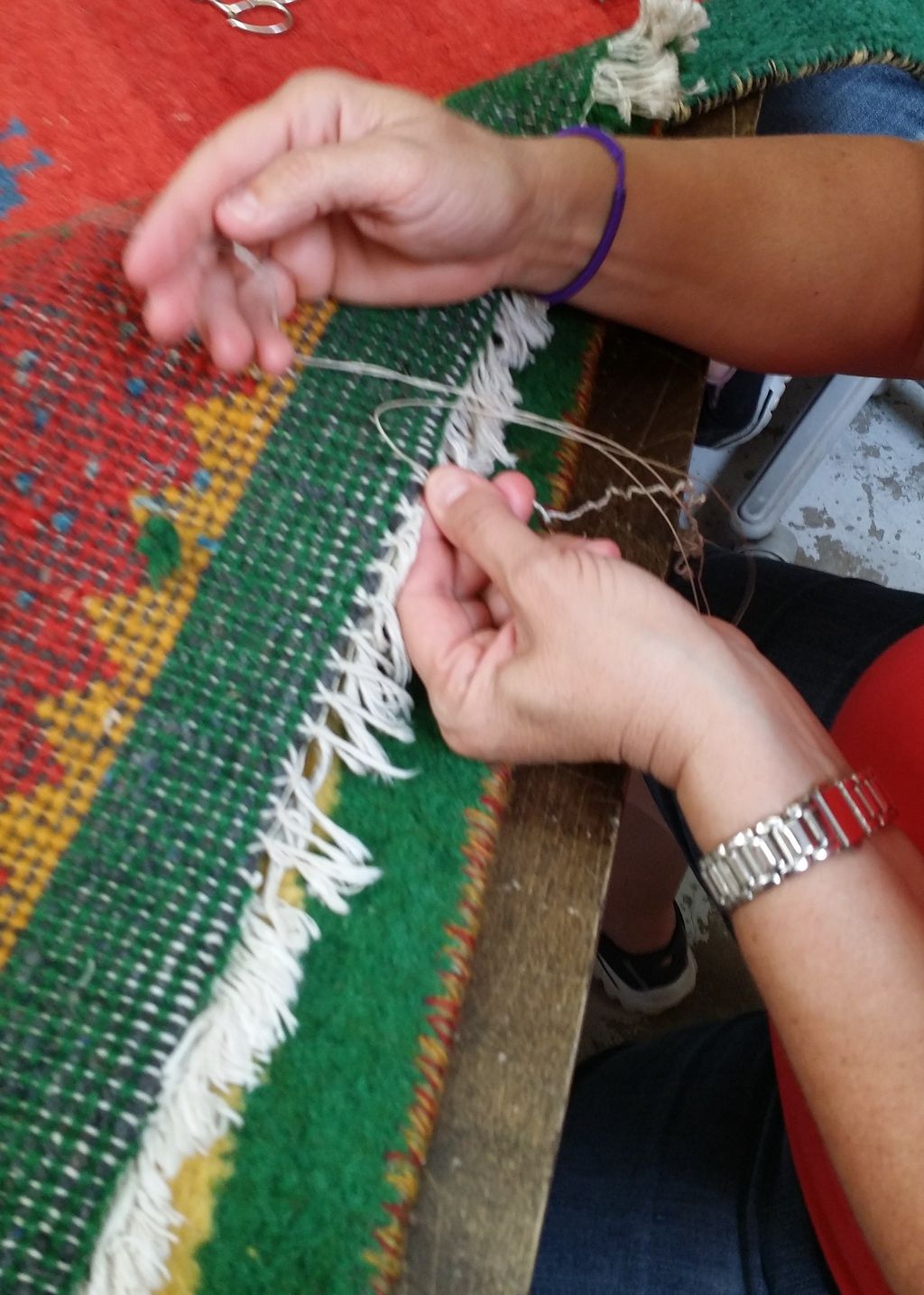 Restoration
– invisible to the naked eye, may add some resale value
Repair – may be visible to the naked eye, will not add resale value, but will hold resale value where it is
Triage – will be visible to the naked eye, will not add value, but will help "keep the rug going"
During pre-inspection, we may suggest a repair to you if we spot any pre-existing damage. These repair quotes do not obligate you to do the repair, but in some extreme cases where the foundation yarns are compromised, some form of repairs may be necessary prior to cleaning to keep the rug intact during the wash process.
In every case where repairs are suggested, the monetary value of the rug is considered. You may have great sentimental attachment to a piece that we deem has little monetary value, so please let us know if this is the case so that we can build a repair plan around your wishes.
Doing it the old-fashioned way is best.
At Southern Idaho Rug Washers, we do all our repairs in-house and by hand. Hand repairs are the strongest, and should last for many, many years.
We hope you'll visit our GALLERY to see a few before & after images of repairs: southernidahorugwashers.com/gallery
Give us a call today to schedule a free inspection and repair quote!